Email me and I'll stop digging.
Here are our puppies we have for sale at this time.
We do not sell our dogs to Chains, Commercial Breeders or puppy mills, Brokers or Pet Shoppes. Please do not even call.
Don't get upset when I ask you about your home and family life, I need to make sure you understand the time and work involved with the care and training of Yorkshire Terriers. I don't want you to have ANY surprises.
I want to ensure that all my puppies go to the best homes. Are you SURE you have time in your life for this puppy? ALL PUPPIES ARE PLACED WITH AN AKC LIMITED REGISTRATION. That means NO BREEDING, No Conformation exhibition. A $300.00 non refundable deposit is required to hold a puppy.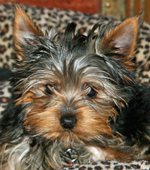 Available Yorkshire Terriers